Diploma in Internet Marketing
Study our in-depth and comprehensive Customised Qualification In Internet Marketing With Our CPD Accredited 3 Day Diploma Course
During this

3-day course

, we will teach you how to take a business idea from concept to creation and get it online. How to create a website that Google and other search engines will love, how to get mountains of website traffic and how to convert that traffic into buyers of your goods or services.
The course will teach you 100s of strategies for growing your business fast. The Internet Business School has taught thousands of entrepreneurs how to market their businesses more effectively and our students have literally created £millions online over the last 5 years.
0% Finance Available


(subject to status)
If you're interested in applying , we can help you as an FCA registered company.
Follow the link below to send in your details and we'll get back to you to discuss your options!
https://goo.gl/forms/5yhBcdLN4KY6NLZ03
Protect your ROI with FREE updated information
Unlike some other courses, you only need to purchase this course once. However you choose to study, we give you access to watch the course videos whenever you need in our Member's Area section. This means you can drop by and watch any section you need 24 hrs a day, and follow the training step-by-step whilst you put it in to action.
Best of all, in the fast-changing world of Internet Marketing where new strategies and possibilities appear all the time, Simon ensures the course is kept as up-to-date as possible. We film the course a minimum of 3 times a year meaning that whenever you log in, you will see the very latest version of our course. Just think that our students who sat the course back in 2009 can still 2019 training! Imagine what the Internet Marketing landscape will be in 2029?
CPD Accredited
On completion of the Diploma course you may also request from us a Certificate of Professional Development issued by CPD Standards to log your training
3 Day Course Programme
Day # 1
Online Business Models
- Selling physical products
- Selling digital products
- Affiliate marketing
- Lead generation / CPA
- Online services
Market Research
- Identifying online trends
- Measuring market size
- Measuring competition
- Market analysis methodology
Digital Product Creation
- eBooks
- Online Courses
Domain Names & Hosting
- Registering a domain name
- Website hosting
Creating Websites
- Installing WordPress
- WordPress themes
- WordPress plugins
- WordPress widgets
- Other website platforms
Website Analytics
- Testing & Tracking
- Identifying traffic sources
- Market 'split' testing
- Opt-in rates
- Conversion rates
Day # 2
Selling Online
- Online selling principles
- How to create sales pages
- Sales objections
- Implementing upsells and down sells
- Shopping carts
- Payment gateways
- Coupon codes
Customer Contact Strategies
- Opt-ins and autoresponders
- Squeeze pages
- Email systems
- Social media
- Mobile marketing
Search Engine Optimisation
- Search engine optimisation
- Strategies
- Factors affecting SEO on Google
- Understand Page Optimisation
- Creating an SEO friendly website
- Understand off page optimisation
- Building links
- Negative factors affecting SEO
- SEO measuring tools
Mobile Marketing
- Mobile apps
- Text message marketing
- Mobile friendly websites
- Mobile advertising
Video Marketing
- Introduction to video marketing
- Video marketing strategies
- Video sales letters
- How to optimise video for SEO
- How to rank video on Youtube
- Video streaming
- How to syndicate video
- How to create Animation Videos
- How to record your own professional live videos
- The best equipment to use
Day # 3
Pay Per Click Advertising
- Building keywords
- Advert targeting
- Writing adverts
- Advert variations
- Advert tracking
- Google Adwords
- Search and content networks
- Facebook advertising
- YouTube advertising
- LinkedIn advertising
Google Business
- Get listed in Google's business directory
- Google Products
- Getting your listing to the top of Google's directory
Outsourcing
- Understanding outsourcing
- Where to find outsourcers from $3 an hour
- What to outsource
- How to outsource
- How to make sure your jobs are done well
Social Media For Business
- Understand uses of social media
- Social bookmarking
- Understanding Facebook
- Page tips
- Understanding how Facebook ranks posts
- How to create a Facebook fan page
- Setting up a Facebook store
- How to leverage viral Facebook campaigns
- Marketing using Twitter
- Marketing using Instagram
- Marketing using Pinterest
- Marketing using Snapchat
- Twitter for traffic, SEO and links
- Building followers on Twitter
- How to encourage Tweets and links
- Getting found on LinkedIn
- Finding clients on LinkedIn
Action Planning
- How to construct an online marketing plan step by step implementation blueprints
---
About Your Instructor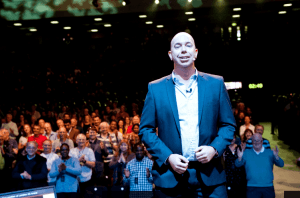 Simon Coulson is one of the UK's leading Internet Marketers.
If you're already in or been around the Internet marketing business you may have heard of Simon or might even have been to one of his previous events. Simon has generated over £25M from internet businesses in the UK.
After mentoring some friends to start their own successful internet businesses, the first of which has now generated £5 million itself, Simon decided to roll out a coaching program to a wider audience and launched the Internet Business School in 2007 ( before AirBnB, Uber, WhatsApp and Instagram were around).
---
This organisation has trained over 1,000′s of entrepreneurs and created many successful online businesses. The Internet Business School has been accredited by CPD. Simon is also an established public speaker on Digital Marketing. He has spoken worldwide to audiences of up to 7,000 and shared the stage with world-renowned experts including Former USA President Bill Clinton, Sir Richard Branson, Lord Alan Sugar, James Caan, Caprice, Mike Harris, Tony Robbins, Brian Tracy, Dan Kennedy, Ted Nicholas, Bill Glazer, Bob Proctor.
---
Course Participant Feedback:
" Exactly What You Need To Know " - Packed with relevant information for this progressive digital age. This course is coherent and the content very usable, recommended, with really good tutors, in Simon, Ben and the Team. - Graham Whiteman
" Seriously impressive course " - I went on the Diploma for Digital Marketing course and I was very impressed with what the Internet Business school delivered. They did not only share the latest strategies and ways of improving your marketing online but also shared some very useful and personal tips and tricks they have learnt through the years of their careers as successful internet marketing pioneers. A very useful course for both novices like myself and for people who would like to improve their current marketing online. - John Lindberg
" Fantastic - so much information to take in but all of it top quality! All I need to do now is to put it into action and the course manual will help me to do that in an easy to follow format - Thank you! - Angela Hale
" Fantastic course, everything needed to start or grow a business online" - If you currently have a business or want to start a new venture then I would defiantly recommend you attend the 3 day Digital Marketing Diploma by Simon Coulson of The Internet Business School. The content delivered over the 3 days was full of little gems that will help you to be a success online. All of the presenters were full of knowledge and were on hand throughout the whole weekend to answer any questions and lend a helping hand with such things as setting up your first website etc. Thank you, Simon and the team. - Jamie
More About The Course
This course is a 3 day intensive, full-time course from 9 am - 6 pm each day.
* Multi payment options also available, please call the office for details: Tel: 01233226222
Course Investment: £1,995

0% Finance Available


(subject to status)
If you're interested in applying , we can help you as an FCA registered company.
Follow the link below to send in your details and we'll get back to you to discuss your options!
https://goo.gl/forms/5yhBcdLN4KY6NLZ03
---
Study This Course Online Now: £1,995
Choose the 'Online Version' on the pricing options panel, for instant access plus additional online course bonus:
Local Business Marketing Course: Get our full 1-day training on how to market your services to local business in your area. Quickly earn back your course fee by offering your skills to local businesses in your area. [Value £397].