Webinar Mastery Training Course
Learn How To Successfully Create, Promote & Deliver Your Own Profitable Online Webinar
Join us on this comprehensive training course where you will learn all you need to know to create, set-up, run and profit from your very own online webinars. Have you ever wanted to run your own webinar, but don't know where to start?
Would you like to sell products and services from your webinar, but you have no idea what works and what doesn't? This intensive training course will give you all the answers.
Webinars are now one of the easiest ways to sell your products or services online …BUT …
To create, promote and deliver a successful and profitable webinar, you need to follow a number of key stages and steps, all of which will be revealed during this intensive one-day training course.
PLUS.. you will get tips, tricks and hacks from industry leading experts.
What To Expect During This Course:
EXPERT tuition, tutorials and advice on how to set up, create, run and profit from an online webinar.

The Secret strategies that established and reputable Internet Marketers are using right now to generate high-end sales from their webinars.

How to get people booked on to your webinar.

Conducting webinar joint ventures with other entrepreneurs! (Leveraging traffic sources)

Creating automated webinars that generate consistent and recurring income.

The steps you need to take to build a large online presence using webinars.
PLUS …. you will also learn how to use webinars to establish and position yourself as an expert in your niche.
Course Modules Breakdown:
MODULE 1
Understanding why some webinars work, and some webinars don't, and what you can do to make yours a success! (The KEY Steps you MUST follow)
MODULE 2
How to create the content for your webinar.
MODULE 3
The 5 keys ingredients to a successful webinar.
MODULE 4
A sample webinar PowerPoint blueprint.
MODULE 5
What you have to include within your webinar to ensure it's a success.
MODULE 6
Webinar audience retention rate (ARR) – what this is and why it is CRUCIAL to your success.
MODULE 7
Branded PowerPoint slides and presentation logos – do you really need them?
MODULE 8
What you MUST say at the start of your webinar in order for it to be a success (miss this and your webinar WILL fail!)
MODULE 9
Developing "TRUST TRIGGERS" throughout your webinar.
MODULE 10
Maintaining control during your webinar (keeping people hooked).
MODULE 11
To sell or not to sell? An in-depth tutorial on selling effectively during your webinar and when the correct time is to make your offer!
MODULE 12
A sample webinar presentation in LIVE MODE – watch Richard deliver a webinar based on the template you can USE and COPY.
MODULE 13
Critical elements such as webinar structure, webinar length and the correct time of day/night to deliver your webinar.
MODULE 14
Selling during your webinar and what to say to your attendees to increase conversion rates!
MODULE 15
Webinar software tool options (which webinar software package to use and the different options available to you.
MODULE 16
Free webinars, or paid-for? Which is best and which option is working right now.
MODULE 17
Automated and pre-recorded webinars – how to set them up.
MODULE 18
Preparing for your first webinar – key tips, tricks and hacks for getting people on to your webinar and how often to run them.
MODULE 19
The KEY elements to delivering a successful webinar.
MODULE 20
What to sell/offer at the end of your webinar – a selection of products, services and courses that WILL sell from your webinar.
MODULE 21
A Sample PowerPoint presentation to take away and use at the end of your course (Simply insert your own content into this template!)
FAQ SESSION
At the end of the course, your tutor will allocate time to answer any questions you might have regarding becoming an expert.
Plus, lots more content and tutorials. It's an information packed training day to ensure you have all the knowledge, tools and resources you need to start running your own webinars fast.
Who Is This Course For?
This training course is ideal for anyone who wants to add a powerful and profitable marketing tool to their business.
Whether you're a coach, consultant, expert, or service professional, this highly educational and informative course will take you from scratch, right through to having the confidence levels to deliver your own successful and profitable webinar. No Experience Required.
About Your Instructor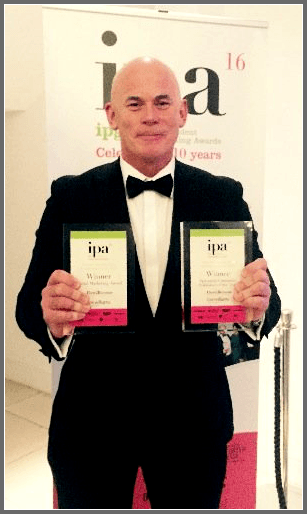 Richard McMunn, Founder of 'How 2 Become'
After a career in the Royal Navy and then the Fire Service working in training and recruitment, Rick started his own publishing business in 2005, launching a range of career guides, which were designed to help job seekers gain employment.
In 2017, Rick won the Specialist Consumer Online Publisher of the Year Award and the Nielsen Digital Marketing Award, too. The judges recognised him for his energetic publishing, brilliant ideas and highly pro-active marketing. Rick is an award-winning entrepreneur, a public speaker, and multiple No.1 best-selling author whilst making over £5 Million in the process. He has authored and self-published more than 150 books and is also the UK's leading book publishing coach to scores of aspiring authors in the UK.
Study this course online now:
Instant access: £297